June 2021, internet user penetration data in Indonesia reached 76/8% of the total 276.36 million population. From this data, Whats Apps users in Indonesia are the third largest in Indonesia. This shows that the potential of the Whats App (WA) application as a medium for disseminating information is very large. This is driven by the fact that the internet in the current era has become a basic need in supporting all activities in this pandemic era.
The concept of information dissemination service is a service to disseminate selected information that is tailored to the interests and needs of users through a medium to these users. In practice, the use of WA as a medium for disseminating information has been carried out by various parties due to the effectiveness of delivering messages.
KPT Telkom Makasar merupakan 4 dari 51 Lembaga Pendidikan Dasar dan Menengah dari Yayasan Pendidikan Telkom dengan brand Telkom Schools yang diresmikan tanggal 23 Januari 2014 oleh Dirjen Pendidikan Dasar dan Menengah Kemendikbud RI Prof. Dr. Ir. Achmad Jazidie beserta Dewan Pengurus dan Pembina Yayasan Sandhykara Putra Telkom (YSPT). Dalam menjalankan operasionalnya, KPT Telkom Makasar membutuhkan sebuah aplikasi diseminasi informasi untuk menginformasikan kegiatan / pengumuman kepada siswa ataupun orang tua siswa.
Oleh karena itu dalam kegiatan pengabdian kepada masyarakat ini akan diimplementasikan suatu aplikasi untuk diseminasi informasi berbasis WA. Aplikasi ini berbentuk Web Application Programming Interface (API) sehingga dapat diintegrasikan dengan aplikasi lain yang memerlukan fungsionalitas diseminasi informasi. Kegiatan pengabdian masyarakat ini merupakan kolaborasi Fakultas Ilmu Terapan, Fakultas Informatika, dan Fakultas Teknik Elektro Universitas Telkom dengan dukungan dari Direktorat Primary and Secondary Education (DPSE). Selain fitur untuk pengiriman pesan melalui WA, aplikasi dilengkapi dengan pengiriman pesan WA melalui upload excel. Dengan adanya aplikasi ini maka diharapkan dapat mendukung kegiatan operasional sekolah menjadi lebih baik lagi baik dalam kegiatan Penerimaan Peserta Didik Baru (PPDB) maupun operasional akademik sekolah yang membutuhkan penyebaran informasi. Adapun luaran dari pengabdian masyarakat ini adalah aplikasi berbasis web untuk pengelolaan penyebaran informasi melalui diseminasi WA baik dalam bentuk blast aplikasi maupun API yang dapat diintegrasikan dengan SIAKAD masing-masing lembaga, serta pelatihan penggunaan aplikasi tersebut.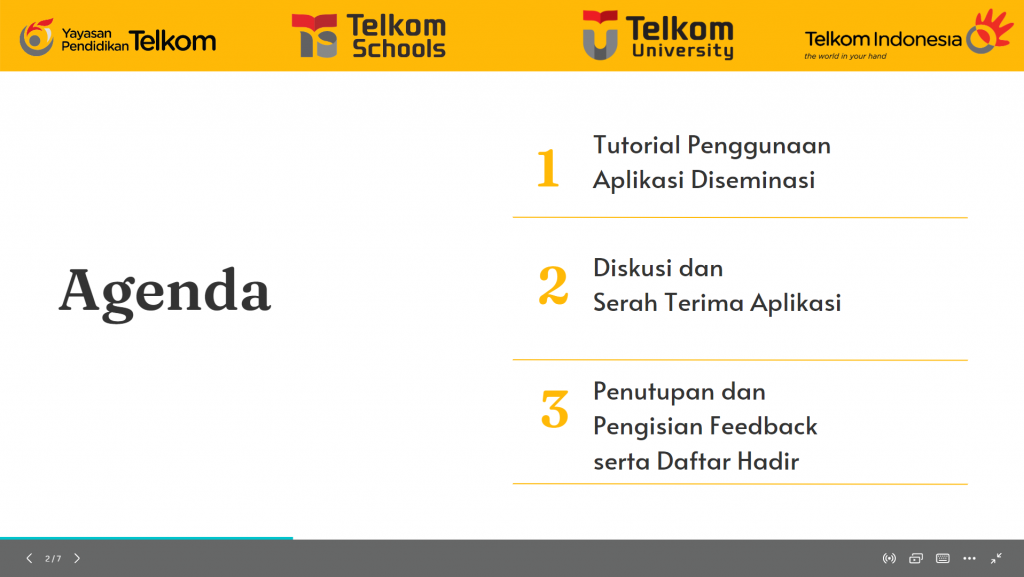 The service activity went well and ended with a socialization and training on the use of the WA Dissemination application which was attended by representatives from the Telkom Makassar Kindergarten Principal, Telkom Makassar Elementary School, Telkom Makassar Junior High School, and Telkom Makassar Vocational School. The socialization was held on Friday, June 10, 2022 at 09:00 WIB by inviting representatives from the committee as training resource persons, namely Mr. Tora Fahrudin, Ibnu Asror, Yanuar Firdaus Arie, and Dawam Dwi Jatmiko.
At the end of the event, the product and PC Emulator handover was also held to representatives of KPT Telkom Makassar, namely Mr. Ir Yanuariadi Kusuma Baskoro, M.AB as VP Primary Secondary Education Operation Control and Evaluation of the Telkom Education Foundation.